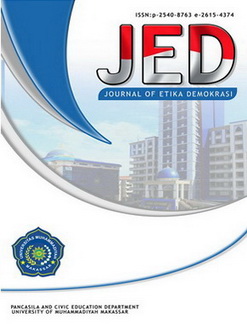 Journal of Etika Demokrasi (JED) with ISSN printed 2540-8763 and online 2615-4374 is a Peer-Review Journal published by Pancasila and Civic Education Department of FKIP Makassar Muhammadiyah University.
The study of the Journal of Etika Demokrasi aims to disseminate Conceptual thinking or ideas, reviews, and research findings/results in Pancasila and Civic Education studies.
The Journal of Etika Demokrasi (JED) focuses on:
1. Education and Learning
2. Pancasila Studies
3. Learning of PPKn Issues
4. Education of Character
5. Social Politics
6. Education of Law and Civic.
Announcements
No announcements have been published.
Vol 6, No 1 (2021): JED (Jurnal Etika Demokrasi)
Full Issue
Table of Contents
Articles
| | | |
| --- | --- | --- |
| | Hariyanti Hariyanti, Filma Alia Sari | 1-11 |
| | | |
| --- | --- | --- |
| | Yulinda Etfita, Maria Montessori | 12-22 |
| | | |
| --- | --- | --- |
| | Rinita Rosalinda Dewi, Sofyan Sauri, Aceng Kosasih | 35-44 |
| | | |
| --- | --- | --- |
| | Sri Sayekti, Slamet Slamet, Kabri Kabri | 54-62 |
| | | |
| --- | --- | --- |
| | Khotami Khotami, Nandang Alamsah Deliarnoor, Utang Suwaryo, Neneng Yani Yuningsih | 63-81 |
| | | |
| --- | --- | --- |
| | Windawati Pinem, Jamaludin Jamaludin, Muhammad Iqbal, Mazwin Lincah | 82-91 |
| | | |
| --- | --- | --- |
| | Nanda Lega Jaya Putra | 92-102 |
| | | |
| --- | --- | --- |
| | Jagad Aditya Dewantara, T Heru Nurgiansah | 103-115 |
| | | |
| --- | --- | --- |
| | Arahim Arahim, Auliah Andika Rukman, Mahendratul Ihwan | 116-123 |
| | | |
| --- | --- | --- |
| | Mardiana Mardiana, Musdalifah Syahrir, Nurmutmainnah Nurmutmainnah | 124-137 |
| | | |
| --- | --- | --- |
| | Andi Sugiati, Jumiati Nur, Nurannisah Anwar | 138-148 |
| | | |
| --- | --- | --- |
| | Rahmat Nur, Suardi Suardi, Nursalam Nursalam, Hasnah Kanji | 149-162 |
| | | |
| --- | --- | --- |
| | Ewi Herlina, Maria Montessori | 163-170 |