Jurnal Etika Demokrasi(JED) with ISSN printed at 2540-8763 and online 2615-4374 is a Peer-Review Journal published by the Department of Pancasila and Civic Education, Faculty of Teacher Training and Education, University of Muhammadiyah Makassar.
JED (Jurnal Etika Demokrasi) study aims to disseminate the findings/research results in the study of Pancasila and Civic Education.
JED (Jurnal Etika Demokrasi) focuses on: (1) Pancasila (Pancasila Socialization, National Diversity, Defend the Country, National Identity, National Consensus, National Insight, Civil Society, Pancasila Education), (2) Pancasila and Civic Education (PPKn) (Civics Learning Model, Civics Learning Media, Civics Learning Teaching Materials, Civics Learning Evaluation, Civics Learning Assessment), (3) Character (Character Building, Character Strengthening, Value of Local Wisdom, Anti-Corruption Value, Moral Values, Multicultural Value, Citizenship Value, Pancasila Value, Moral Ethics) (4) Education (Teacher competence, Teacher Collaboration, Curriculum Development, Educational Dynamics, Educational Problems, Learning Achievement, Multicultural Education, School Environment, Literacy Learning, Digital Literacy, School Literacy, Equitable Education, Learning Media Development, Learning Model Development, Development of teaching Materials, Learning Innovation), (5) Political  (Political Strategy, Political Rights, Political freedom, Political education, Political participation, Government system, Demonstration), (6) Social (Impact of Covid, Handling Covid, Social Relations, Social Engagement, Social Adaptation, Social Support, Social Habit, Social Care), (7) Law (Legal Implications, Customary Law, Islamic Law).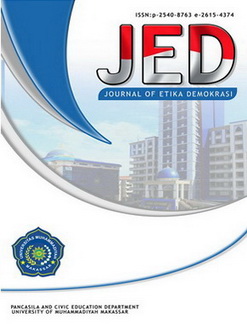 Announcements
No announcements have been published.
Vol 8, No 3 (2023): JED (Jurnal Etika Demokrasi)
Table of Contents
Articles
| | | |
| --- | --- | --- |
| | Afif Noor, Moh. Arifin, Deni Parama Widia Astuti | 303-315 |
| | | |
| --- | --- | --- |
| | Ahmad Bakri, Dadang Sundawa, Iim Siti Masyitoh | 316-325 |
| | | |
| --- | --- | --- |
| | Arnanda Yusliwidaka, Kholis Roisah, Joko Setiyono | 326-333 |
| | | |
| --- | --- | --- |
| | Irwan Irwan, Zusmelia Zusmelia, Ansofino Ansofino, Felia Siska | 351-360 |
| | | |
| --- | --- | --- |
| | Jumiati Nur, Musdalifah Syahrir, Dewa Bagus Sanjaya, Ya'kub Ya'kub, Sharah Adriani Jafar | 361-372 |
| | | |
| --- | --- | --- |
| | Maria Anna Muryani, Noor Rosyidah, Maliki Alfajr Davin C.S, Afif Noor | 373-382 |
| | | |
| --- | --- | --- |
| | Mohamad Fuat Najib, Subaidi Subaidi | 383-394 |
| | | |
| --- | --- | --- |
| | Putri Erica Valendria, Widia Nur Jannah, Dewi Yulianawati | 395-404 |
| | | |
| --- | --- | --- |
| | Raditya Feda Rifandhana, Indro Budiono, Zenia Dwitya Pratidina, Rizky Herdian Herdiansyah, Selvia Wisuda, Suardi Suardi, Muhajir Muhajir, Muhammad Dahlan, Ayu Dian ingtias | 405-418 |
| | | |
| --- | --- | --- |
| | Randiawan Randiawan, Karim Suryadi, Prayoga Bestari | 419-430 |
| | | |
| --- | --- | --- |
| | Suardi Suardi, Nursalam Nursalam, Shahrin Bin Hashim, Hasnah Kanji | 431-441 |
| | | |
| --- | --- | --- |
| | Yudha Pradana, Bunyamin Maftuh, Elly Malihah | 442-458 |