Linears journal is a peer-reviewed journal of the Department of Architecture, Faculty of Engineering, Muhammadiyah University of Makassar, Indonesia, with the registered number ISSN 2614-3976 (online). Linears journal has been nationally accredited (SINTA 4) based on the Decree of the Minister of Research, Technology and Higher Education, Number 158/E/KPT/2021.
Linears journal was published twice a year in March and September as a media publication since March 2018 by Indonesian and International academicians and professionals. Jurnal Linears focuses on publishing manuscripts within the following areas:
Architectural Planning and Design
Environmental Engineering
Building Science and Technology
Project Management
Structural Engineering
Building Materials
Building Intelligent Modelling (BIM)
Theory and Architectural Criticism
Interior Design
Urban Planning
Housing and Settlement Design
Landscape Architecture
Architectural Conservation and Heritage
Study of Islamic Architecture
Transportation
Please read and understand the author guidelines thoroughly. An author who submits a manuscript to the editor Jurnal Linears should comply with the author guidelines. The editorial team will only accept a manuscript that meets the specified formatting requirements. If the submitted manuscript does not comply with the guidelines or uses a different format, it will be rejected by the editorial team before being reviewed.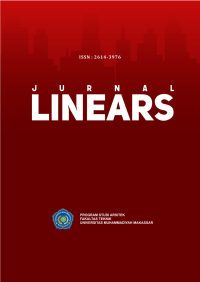 Announcements
No announcements have been published.
Vol 6, No 1 (2023): Jurnal LINEARS
Table of Contents
Articles
| | | |
| --- | --- | --- |
| | Andi Muhammad Akbar, Nur Setiawati | 1-10 |
| | | |
| --- | --- | --- |
| | Laode Muh. Asfan Mujahid, Venny Veronica Natalia, Andi Ahmad Dzaky Akrim | 11-21 |
| | | |
| --- | --- | --- |
| | Refa Sebtyani, Dianna Astrid Hartoety, By Nur Hidayah Rahmawati, Raksa Maulana Subki | 22-36 |
| | | |
| --- | --- | --- |
| | Wahyu Saputra, Rahmayanti Rahmayanti | 37-47 |
| | | |
| --- | --- | --- |
| | Nur Mutmainnah, Esta Larosa, Salmiah Zainuddin H | 48-55 |
| | | |
| --- | --- | --- |
| | Robert Rianto Widjaja | 56-63 |
| | | |
| --- | --- | --- |
| | Michelle Michelle, Parmonangan Manurung, Christian Nindyaputra Octarino | 64-73 |
| | | |
| --- | --- | --- |
| | Mardianah Marzuki, Mohammad Mochsen Sir, Ria Wikantari | 74-86 |