JUMPTECH
Journal of Muhammadiyah's Application Technology
Jumptech (Journal of  Muhammadiyah's Application Technology) is an online periodical journal of science that is published three times a year, in February, June and October by Faculty of Engineering, Muhammadiyah University of Makassar, Indonesia, with a registered number ISSN xxxxxx (online).
Jumptech is a media to publish the results of scientific research academics, practitioners, and observers in the field of engineering science including irrigation civil engineering, architecture, electrical engineering, computer science, urban and regional planning.
Jumptech focuses on publishing manuscripts within the following areas:
Irrigation Civil Engineering:
Hydrology; Hydraulics; Environmental Impacts; Solute and Sediment Transport; Soil Salinity; Water‐Quality Control; Sustainability; Water Management and Conservation; Evapotranspiration; Soil‐Water Flow; Design, Operations and Maintenance of Irrigation and Drainage Infrastructure; Development and Application of Technology; Economics, Energy Use, and Regulation in Irrigation and Drainage Engineering.
Electrical Engineering and Computer Science:
Power Systems: Generator, Power Distribution, Electrical Power Convertion, Protection Systems, Electrical Material
Signal, System, and Electronics: Digital Signal Processing, Image Processing, Robotic Systems, Control Systems, Embedded Systems
Communication Systems: Telecommunication, Wireless Communications, Computer Network
Information Technology:  Software Engineering, Data Mining, Multimedia, Mobile Computing, Parallel / Distributed Computing, Artificial Intelligent, Computer Graphic, AR/VR
Architecture, Urban and Regional Planning :
Architectural Planning and Design; Environmental Engineering; Building Science and Technology; Project Management; Structural Engineering; Building Materials; Building Intelligent Modelling (BIM); Theory and Architectural Criticism; Interior Design; Urban Planning; Housing and Settlement Design; Landscape Architecture; Architectural Conservation and Heritage; Study of Islamic Architecture; Regional and City Studies; Building Management and Built Environment; Infrastructure and Transport; Development Policy and Economics; Behavior, Space and Culture; Tourism and Space.
Email : jumptech-ft@unismuh.ac.id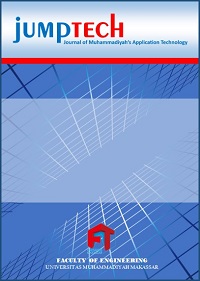 Vol 1, No 2 (2022)
Table of Contents
Articles
| | | |
| --- | --- | --- |
| | Israil Israil, Muh Amir, Mahmuddin Mahmuddin, Fithriyah Arief Wangsa | |
| | | |
| --- | --- | --- |
| | Aan Kunaifi, Irnawaty Idrus, Citra Amalia Amal, Khilda Wildana Nur, Rohana nana, Salmiah Zainuddin | |
| | | |
| --- | --- | --- |
| | Firdaus Firdaus, Nini Apriani Rumata, Didiet Haryadi Hakim | |
| | | |
| --- | --- | --- |
| | RIFKI SURYA FAJAR, Citra Amalia Amal, Ashari Abdullah, Salmiah Zainuddin, Andi Syahriyunita, Nurhikmah Paddiyatu | |
| | | |
| --- | --- | --- |
| | Raja Fath, Sahabuddin Latif, Irnawaty Idrus, Muhammad Syarif, Siti Fuadillah A. Amin, Nurhikmah Paddiyatu | |
| | | |
| --- | --- | --- |
| | Wahyudi Rahmat Gazali, Siti Fuadillah A. Amin, Nurhikmah Paddiyatu, Aris Sakkar Dollah, Ashari Abdullah, Khilda Wildana Nur | |
| | | |
| --- | --- | --- |
| | Imam Rusydi Yulyadiputra, Aris Sakkar Dollah, Sahabuddin Latif, Ashari Abdullah, Nurhikmah Paddiyatu, Salmiah Zainuddin | |
| | | |
| --- | --- | --- |
| | Rahmat Sopianto, Sahabuddin Latif, Nurhikmah Paddiyatu, Andi Syahriyunita, Andi Annisa Amalia, Siti Fuadillah | |
| | | |
| --- | --- | --- |
| | Aprianto Anto, Ashari Abdullah, Siti Fuadillah A. Amin, Rohana Rohana, Nurhikmah Paddiyatu, Citra Amalia | |
| | | |
| --- | --- | --- |
| | Muh. Arif, Rosady Mulyadi, Andi Annisa Amalia, Citra Amalia Amal, Khilda Wildana Nur, Sahabuddin Latif | |
| | | |
| --- | --- | --- |
| | Hajarul Aswad, Ashari Abdullah, Salmiah Zainuddin, Khilda Wildana Nur, Rohana nana, Andi Yusri | |
| | | |
| --- | --- | --- |
| | Muhammad Syafa'at S. Kuba, Ahmda Syafi'i Zulmi, Muh Alvin Achmad Kato, Riswal Karamma | |
| | | |
| --- | --- | --- |
| | Abd Muis Ahmad, Mursyid Mustafa, Andi Annisa Amalia, Salmiah Zainuddin, Andi Syahriyunita, Muhammad Syarif | |
| | | |
| --- | --- | --- |
| | Andi Pirmang Saputra, Rosiana Rosiana, Muh Yunus Ali, Faridah Gaffar, Nurnawaty Nurnawaty, Andi Bunga Tongeng | |