Salam dan sukses serta semangat senantiasa hadir dalam suasana aktivitas pekerjaan yang diamanatkan.
Aktivitas Jurnal Eleketronik (e-journal) Perguruan Tinggi di Universitas Muhammadiyah Makassar berawal sejak April Tahun 2015. Keberadaannya dinaungi oleh Lembaga Penelitian, Pengembangan dan Pengabdian Masyarakat (LP3M) Unismuh Makassar pada unit kerja Divisi; Electronic Journal. Program aplikasi Open Journal System (OJS) dialamatkan pada:
host: http://unismuh.ac.id
web: http://journal.unismuh.ac.id

Portal: Publikasi Jurnal Ilmiah Akademik Universitas Muhammadiyah Makassar (PUJIA|UNISMUH)
===> SARAN Bagi Author. Silahkan Kunjungi Situs Pengajuan Jurnal INTERNASIONAL BEREPUTASI di:
http://e-journal.p-adri.or.id/
A B C D E F G H I J K L M N O P Q R S T U V W X Y Z All
EQUILIBRIUM: JURNAL PENDIDIKAN SOSIOLOGI
View Journal | Current Issue | Register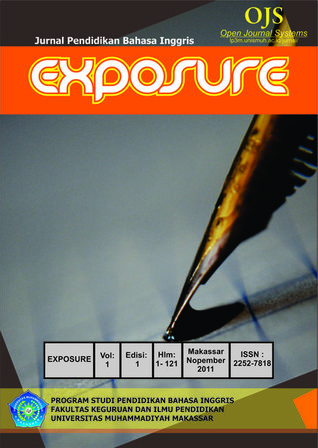 EXPOSURE : JURNAL PENDIDIKAN BAHASA DAN SASTRA INGGRIS
Exposure Journal publishes academic articles that recognize successful engaged learning depends on effective partnerships between students, faculty, community agencies, administrators, disciplines, and more. The journal invites submission of 1) Research that emanates from or informs campus-community partnerships; 2) Studies co-authored by faculty, students, and/or community partners; 3) Literature and Teaching English as Foreign Language; and 4) Commentary on emerging trends, developments, and/or challenges. The publication of this journal aims to spread conceptual thinking or ideas and the research findings obtained in the field of English Education and Literature.
Nationally Accredited and Certified by 
The Ministry of Research, Technology and Higher Education of the Republic of Indonesia (No.21/E/KPT/2018) Valid until 2020
View Journal | Current Issue | Register
1 - 2 of 2 Items