Al-Iqra Medical Journal is a peer-reviewed journal of medicine and health. This journal is designed as a forum for disseminating information and knowledge which is published twice a year. It publishes original articles, review articles, and case reports. It comprises biomedical science, clinical medicine, public health science, and medical science education. This journal has been established since 2018  (ISSN Online 2549-255X) which is managed by the Faculty of Medicine, University of Muhammadiyah Makassar.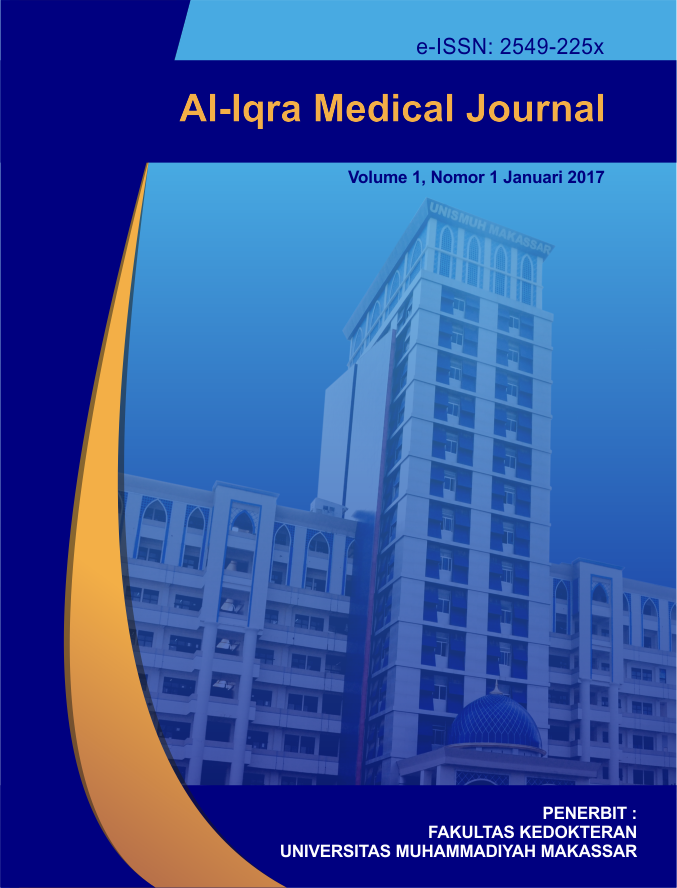 Al-Iqra Medical Journal telah terakreditasi oleh Akreditasi Jurnal Nasional (ARJUNA) Dikelola oleh Kementerian Riset dan Teknologi Republik Indonesia (MENRISTEK) dengan Sinta 4.
Announcements
No announcements have been published.
Vol 5, No 2 (2022): AIMJ
Table of Contents
Articles
| | | |
| --- | --- | --- |
| | Mulkiyah Zul Fadhilah, Rini Fitriani, Arlina Wiyata Gama, Rahadi Arie Hartoko, Muktar Lutfi | 68-76 |
| | | |
| --- | --- | --- |
| | Salsabila Rahmadhanti, Diana Handaria, Hema Dewi Anggraheny | 77-83 |
| | | |
| --- | --- | --- |
| | Nur Alda Fadillah, Andi Alifia Ayu Delima, Rauly Rahmadhani, Nadyah Haruna, Ibrahim Manda | 84-96 |
| | | |
| --- | --- | --- |
| | Nur Faisah Arafah, Abdul Muis, Muhammad Akbar, Amiruddin Aliah, Cahyono Kaelan, Ilhamjaya Patellongi | 97-102 |
| | | |
| --- | --- | --- |
| | Apriani hanapi, Andi Alifia Ayu Delima, Darmawansyih Darmawansyih | 103-112 |
| | | |
| --- | --- | --- |
| | Prima Adelia Rachmita, Rachmadijah Zuryati Nizar, Yessy Setiawati | 113-120 |
| | | |
| --- | --- | --- |
| | Elly Mazida, Christian Wijaya | 121-127 |
| | | |
| --- | --- | --- |
| | Priska Krinanta Ginting, Dharma Lindarto, Santi Syafril | 128-135 |