Al-Iqra Medical Journal is a peer-reviewed journal of medicine and health. This journal is designed as a forum for disseminating information and knowledge which is published twice a year. It publishes original articles, review articles, and case reports. It comprises biomedical science, clinical medicine, public health science, and medical science education. This journal has been established since 2018  (ISSN Online 2549-255X) which is managed by the Faculty of Medicine, University of Muhammadiyah Makassar.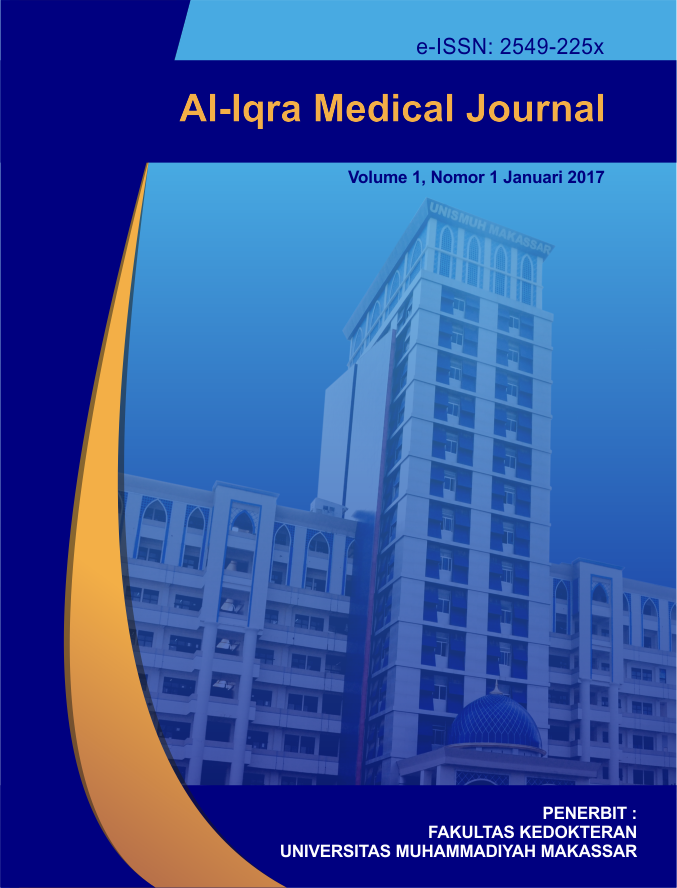 Al-Iqra Medical Journal has been accredited by the National Journal Accreditation (ARJUNA) Managed by the Ministry of Research and Technology of the Republic of Indonesia (MENRISTEK) with Sinta 4.
Announcements
No announcements have been published.
Vol 6, No 2 (2023): Al-Iqra Medical Journal: Jurnal Berkala Ilmiah Kedokteran
Table of Contents
Articles
| | | |
| --- | --- | --- |
| | I Putu Arya Giri Prebawa, Ketut Suega | |
| | | |
| --- | --- | --- |
| | Aulia Zulfiana Nur Faiza, Muhamad Taufiqy Setyabudi, Kanti Ratnaningrum | |
| | | |
| --- | --- | --- |
| | Asni Asni Amin, Rusli rusli Rusli, Aqilah Alviola Bani | |
| | | |
| --- | --- | --- |
| | Asnhy Anggun Dien Putri, Ivana Beatrice Alberta, Fredy Ciputra | |
| | | |
| --- | --- | --- |
| | sukma cukey anjayani, Nur Rahmah Shaleh Mathar | |
| | | |
| --- | --- | --- |
| | Sidhi Laksono, Dhiki Nugraha | |
| | | |
| --- | --- | --- |
| | Bramantyas Kusuma Hapsari, Aaliyah Pryanditha Maharani, Andi Tenri Padad | |