Adaptive Governance dalam Pengembangan Kapasitas Pemerintah Daerah dalam Pemberdayaan Pedagang Kaki Lima (PKL) di Kabupaten Mamuju
Abstract
This study aimed to determine Adaptive Governance in Capacity Building of Local Governments in Empowering Street Vendors (PKL). This study used descriptive qualitative. This type of research was qualitative. Data sources consisted of Primary data and Secondary data. The number of informants in this study were 7 (seven) people from 6 (six) agencies. The results of this study indicated that Adaptive Governance in the Capacity Development of Local Governments in Street Vendors Empowerment (PKL) had been running well as evidenced by the development of street vendors no longer using public roads to trade. Although there was little that needed to be addressed so that street vendors were satisfied with the results of government work. The influencing factor was the government providing a new location for street vendors to trade and no longer using public roads that disturbed road users.
References
Fischhendler, I., & Heikkila, T.
(2007, November). IWRM mendukung tata kelola adaptif: Suatu perspektif kebijakan. Dalam konferensi akhir Freude am Fluss, Universitas Radboud, Nijmegen (NL) (pp. 22-24).
Hatfield-Dodds, dkk. (2007).
Pemerintahan adaptif: Pengantar dan implikasi untuk kebijakan publik. (No. 418-2016-26492).
Kasmad, R., & Alwi, A. (2015).
Model Demokratis Akuntabilitas Kebijakan Publik. Studi Kasus tentang Implementasi Kebijakan Pemberdayaan Pedagang Kaki Lima di Kota Makassar. Jurnal Studi Pemerintahan, 6(2), 186-202.
C, Folke, dkk. (2005). Tata kelola
adaptif dari sistem sosial-ekologis. Annu. Rev. Environ. Sumber daya, 30, 441-473. Engle, N. L. (2011). Kapasitas adaptif dan penilaiannya. Perubahan lingkungan global, 21(2), 647-656.
Utami, T. (2014). Pemberdayaan
Komunitas Sektor Informal Pedagang Kaki Lima (PKL), Suatu Alternatif Penanggulangan Kemiskinan. Jurnal Sosiologi DILEMA, 25(2).
Suharto, E. (2008). Pendampingan
sosial dalam pemberdayaan masyarakat miskin: Konsepsi dan strategi. Jurnal studi Pemerintahan.
Farmer, E., & Weston, K. M. (2002).
Model konseptual untuk pengembangan kapasitas dalam penelitian perawatan kesehatan primer Australia. Dokter keluarga Australia, 31(12), 1139.
Engle, N. L. (2011). Kapasitas
adaptif dan penilaiannya. Perubahan lingkungan global, 21(2), 647-656.
James, V. U. (Ed.). (1998).
Pengembangan kapasitas di negara berkembang: Dimensi manusia dan lingkungan. Grup Penerbitan Greenwood.
Hilderbrand, dkk. (1997).
Mendapatkan pemerintahan yang baik: peningkatan kapasitas di sektor publik di negara berkembang, 504.
Refbacks
There are currently no refbacks.

Ciptaan disebarluaskan di bawah Lisensi Creative Commons Atribusi-BerbagiSerupa 4.0 Internasional.
View My Stats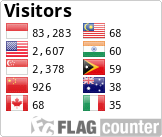 _____
Menara Iqra Lantai 5 Universitas Muhammadiyah Makassar
Jalan Sultan Alauddin Nomor 259 
Kota Makassar - Sulawesi Selatan