Amnesty: Jurnal Ilmu Perpajakan which has IssN-Print: 2714-6308 and on-line ISSN: 2714-6294 is a scientific periodical in the field of taxation by the Taxation Study Program, Faculty of Economics and Business, University of Muhammadiyah Makassar. Amnesty: The Journal of Tax Research is published twice a year, in May and November.
Amnesty: Jurnal Ilmu Perpajakan also accepts articles and other forms of scientific writing from academics, practitioners and observers of taxation issues. Article submissions are made using the Amnesty: Jurnal Ilmu Perpajakan template accompanied by supporting documents in the form of: a statement of authorship, ethics, and a copyright statement, which can be downloaded on the main page of the Amnesty website: Amnesty: Jurnal Ilmu Perpajakan has been single-reviewed by peer reviewers. The decision to accept or not accept scientific articles in this journal is the right of the Editorial Board based on recommendations from peer reviewers.
Please read and understand the author's guidelines thoroughly. Authors who submit manuscripts to the editors of Amnesty: Jurnal Ilmu Perpajakan must comply with author guidelines. If the submitted manuscript does not comply with the guidelines or uses a different format, the manuscript will be rejected by the editorial team prior to review. The Editorial Team will only accept manuscripts that meet the specified format requirements.
Amnesty: Jurnal Ilmu Perpajakan has been Nationally Accredited by the Ministry of Research, Technology, and Higher Education, Republic of Indonesia, Number: 5162/E4/AK.04/2021 (Sinta 5), valid until 2022.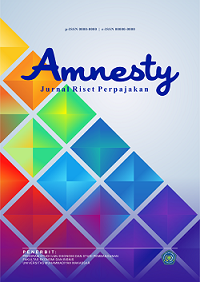 Announcements
No announcements have been published.
Vol 6, No 1 (2023): Mei 2023
Table of Contents
Articles
| | | |
| --- | --- | --- |
| | Nur Sandi Marsuni, Yulitasari Yulitasari, Kartini Kartini, Yohanis Rura | 1-16 |
| | | |
| --- | --- | --- |
| | Pratiwi Pratiwi, Fadhilah Syahrani Elpriyan, Putri Putri, Galuh Tresna Murti | 17-21 |
| | | |
| --- | --- | --- |
| | Alya Sadila, Galuh Tresna Murti, Nisaul Fitri, Riska Indah Viana, Syifa Syarifah Annida Chasanah | 22-29 |
| | | |
| --- | --- | --- |
| | Mira Mira, Faidul Adziem | 30-37 |
| | | |
| --- | --- | --- |
| | Najwah Fadhilah, Galuh Tresna Murti, Najwa Salsabila Az-Zahra, Rahayu Dwi Suryaningrum | 38-43 |
| | | |
| --- | --- | --- |
| | Alya Shafadilla, Rini Dyah Puspo Sari, Sausan Qorina, Galuh Tresna Murti | 44-48 |
| | | |
| --- | --- | --- |
| | Affanza Favernanda Akhlaqul Abrar, Hengky Reynaldi Chan, Galuh Tresna Murti, Sultan Hanif Wibisono | 49-54 |
| | | |
| --- | --- | --- |
| | Andi Arifwangsa Adiningrat, Rustan Rustan, Ainun Mardiyah | 55-63 |
| | | |
| --- | --- | --- |
| | Avian Rezky Nevianto, Elsa Putri Delpani, Galuh Tresna Murti, Rizki Jodi Sulistyawan | 64-67 |
| | | |
| --- | --- | --- |
| | Galuh Tresna Murti, Selvia Eka Restu, Vina Aprilia Nursari, Widialestari Widialestari | 68-71 |
| | | |
| --- | --- | --- |
| | Andi Rustam, M. Hidayat, Rezky Firmansyah Hr | 72-76 |
| | | |
| --- | --- | --- |
| | M. Daffa Rajendra, Alysha Putri Rachman, Aura Yuliana W, Galuh Tresna Murti | 77-82 |
| | | |
| --- | --- | --- |
| | kesia atira simanjuntak, Jelita Miguela Da Silva Martins, Try Liani, Galuh Tresna Murti | 83-91 |
| | | |
| --- | --- | --- |
| | Muhammad Khaedar Sahib, Andi Arifwangsa Adiningrat, Andi Jam'an, Nurhikmah Nurhikmah | 92-104 |