Aktivitas Jurnal Elektronik (e-journal) Perguruan Tinggi di Universitas Muhammadiyah Makassar berawal sejak April Tahun 2015. Keberadaannya dinaungi oleh Lembaga Penelitian, Pengembangan dan Pengabdian Masyarakat (LP3M) Unismuh Makassar pada unit kerja Divisi; Electronic Journal. Program aplikasi Open Journal System (OJS) dialamatkan pada:
Silahkan Kunjungi Situs Informasi JURNAL INTERNASIONAL BEREPUTASI di:
Office: Jalan Sultan Alauddin Nomor 259, Rappocini, Makassar 90221, Sulawesi Selatan, Indonesia +62.
A B C D E F G H I J K L M N O P Q R S T U V W X Y Z All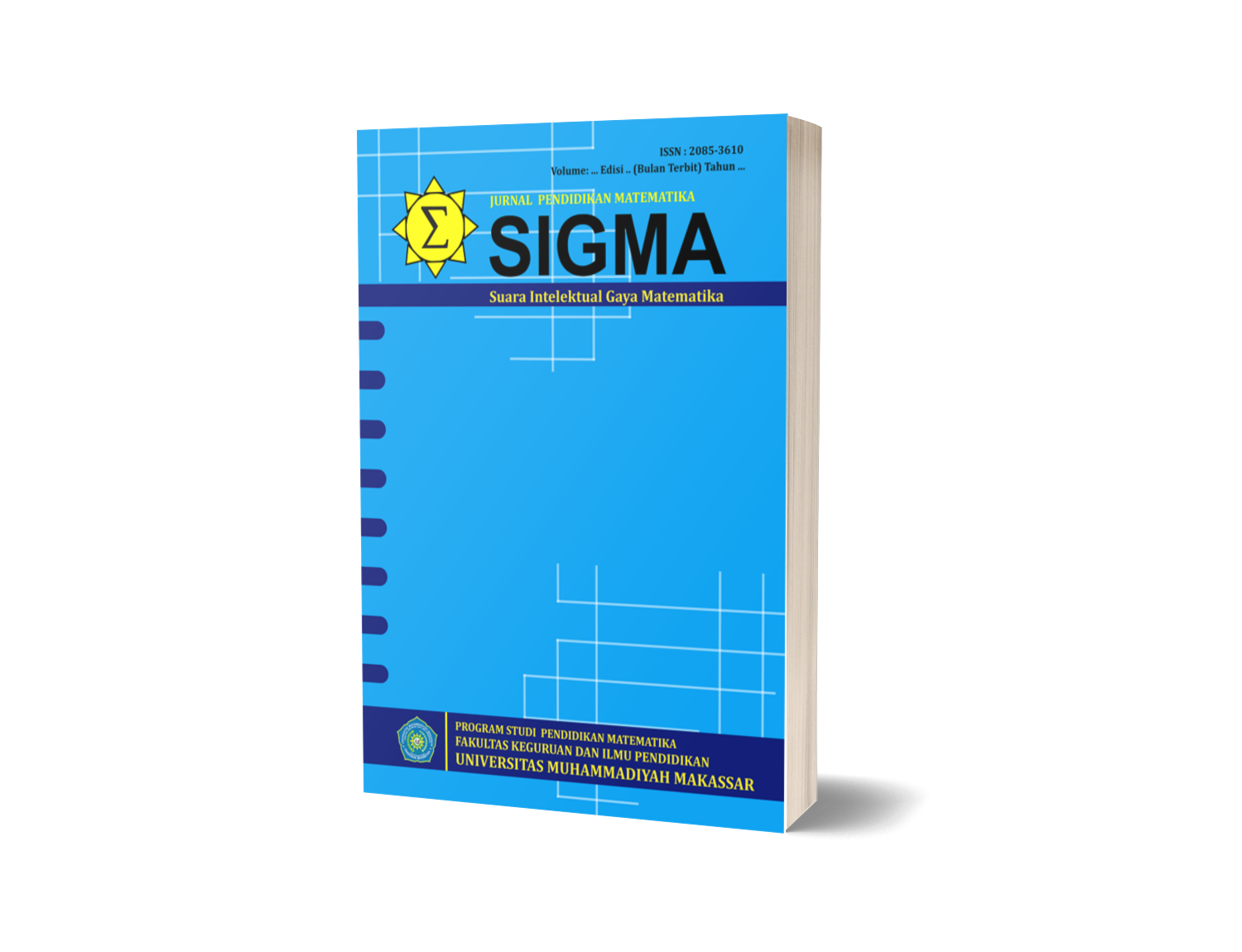 SIGMA : JURNAL PENDIDIKAN MATEMATIKA
SIGMA (Suara Intelektual Gaya Matematika) adalah jurnal diterbitkan oleh Program Studi Pendidikan Matematika, Fakultas Keguruan dan Ilmu Pendidikan Universitas Muhammadiyah Makassar. Jurnal SIGMA diterbitkan pada bulan Juni dan Desember. Artikel difokuskan kepada penulis, guru, mahasiswa, dosen, dan peneliti untuk mempublikasikan hasil penelitian tentang pembelajaran baik SD, SMP, SMA maupun Perguruan Tinggi dalam bentuk temuan penelitian, pembelajaran bidang studi Matematika, pengalaman praktis, pengembangan kurikulum, kajian kepustakaan,dan gagasan konseptual di bidang keilmuan pendidikan matematika.
We accept articles of the author can be derived various countries, with the scientific field of Mathematics Education.

Authors should submit only papers that have been carefully proofread and polished. Manuscripts are accepted with the understanding that they are the original or extended version of previously published papers in conferences and / or journals and that, if the work received an official sponsorship, it has been Duly released for open publication. Before submission please Make sure that your paper is prepared using the journal paper template. The authors must refer to SIGMA Journal for writing format and style (Please download and use as a template for the initial manuscript submission). This will Ensure fast processing and publication. Any papers not fulfilling the requirements based on the guidelines to authors will not be processed.
If you have any problems with the online submission, please contact:
(Phone1) +6285255384303,   Email 1 : andialims@unismuh.ac.id (Andi Aliem S)
(Phone2) +6281242369222, Email 2: mureeuz88@gmail.com (Muh.Rizal Usman)
View Journal | Current Issue | Register
1 - 1 of 1 Items