Profitability Management Science Journal registered with the Indonesian Scientific Research Institute (LIPI) with p-ISSN 2714-6332| and e-ISSN 2714-6324] published by the Management Study Program, Faculty of Economics and Business, University of Muhammadiyah Makassar, this journal publishes research articles in the field of Management Science. This journal publishes research studies using various qualitative and/or quantitative methods and approaches in the field of management. Profitability Management Science Journal aims to develop concepts, theories, perspectives, paradigms, and methodologies within the scope of management which are published twice a year, in February and August.
The scope of the Profitability Management Science Journal includes Financial Management, Business Sector Management and UMKM, Human Resource Management, Management Information Systems, Banking Management, Corporate Management, Environmental Management and Management Audits as well as applied business sciences.
The articles published in the Journal of Profitability Management Science have been singgle reviewed by peer reviewers. The decision to accept or not accept scientific articles in this journal is the right of the Editorial Board based on the recommendations of peer reviewers.
Please read and understand the author's guidelines thoroughly. Authors who submit manuscripts to the editors of the Profitability Management Science Journal must comply with the author's guidelines. If the submitted manuscript does not comply with the guidelines or uses a different format, it will be rejected by the editorial team prior to review. The Editorial Team will only accept manuscripts that meet the specified format requirements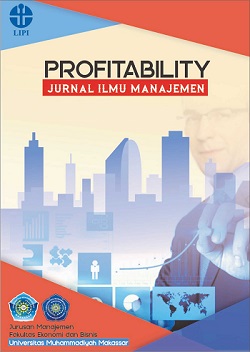 Announcements
No announcements have been published.
Vol 7, No 1 (2023): FEBRUARI 2023
Table of Contents
Articles
| | | |
| --- | --- | --- |
| | Hardiman Hardiman, Kristina Anindita Hayuningtias | 1-12 |
| | | |
| --- | --- | --- |
| | Nurul Azis, Prayekti Prayekti, Jajuk Herawati | 13-31 |
| | | |
| --- | --- | --- |
| | Nurfaujiah Nurfaujiah, Aliah Pratiwi | 32-38 |
| | | |
| --- | --- | --- |
| | Teguh Erawati, Rina Iriyanti | 39-50 |
| | | |
| --- | --- | --- |
| | Makmur Makmur, Sulina Sulina | 51-56 |
| | | |
| --- | --- | --- |
| | Mistika Ignasia Br Ginting, Muinah fadhilah, Nonik Kusuma Ningrum | 57-72 |
| | | |
| --- | --- | --- |
| | M. Yusuf Alfian Rendra Anggoro KR, Naidah Naidah, Samsul Rizal, Serry Adelia, Kardina Kardina | 73-81 |
| | | |
| --- | --- | --- |
| | Hakam Fauzi, Prayekti Prayekti, Landri Landri | 82-87 |
| | | |
| --- | --- | --- |
| | Ade Febryanti, Amirulmukminin Amirulmukminin | 88-93 |
| | | |
| --- | --- | --- |
| | Nursaifullah Nursaifullah, Muhammad Suyuti, Muhammad Suyuti, Makmur Makmur, Makmur Makmur | 94-102 |
| | | |
| --- | --- | --- |
| | Aulia Aulia, Sherry Adelia Natsir Kalla, Indriana Indriana, Ichlazul Ghifary | 103-117 |
| | | |
| --- | --- | --- |
| | Sri Ayem, Richi Hartina Sari, Richi Hartina Sari | 118-127 |
| | | |
| --- | --- | --- |
| | Amriadi Amriadi, Zul Fadly, Zul Fadly | 128-133 |
| | | |
| --- | --- | --- |
| | Muh Ramli, Arianto Dangkeng, Hardianti Pertiwi, Rafika Fausiah | 134-138 |
| | | |
| --- | --- | --- |
| | nasrullah nasrullah, Kahar Kahar, Haslindah Haslindah, Moh. Aris Pasigai, Nur Wahida Basri, Sultan Sarda | 139-144 |