Balance: Jurnal Ekonomi has p-ISSN 1858-2192 and e-ISSN 2686-5467 published by the Development Economics Study Program of the Faculty of Economics and Business, Muhammadiyah University of Makassar, this journal publishes research articles in the field of Economics. This journal publishes research studies that use various qualitative and/or quantitative methods and approaches in the field of Economics. This journal aims to develop concepts, theories, perspectives, paradigms, and methodologies in the scope of Economics published twice a year, namely June and December.
The scope of Balance: Journal of Economics Covers Economics and Development, Economic Behavior, Islamic Economic System, International Economy as well as applied sciences of Statistical Economics, Macro and Micro. Article submissions are made using the Balance: Jurnal Ekonomi template accompanied by supporting documents in the form of: a statement of authorship, ethics, and a copyright statement, which can be downloaded on the main page of the Balance: Jurnal Ekonomi website. Balance: Jurnal Ekonomi has been single-reviewed by peer reviewers. The decision to accept or not accept scientific articles in this journal is the right of the Editorial Board based on recommendations from peer reviewers.
Please read and understand the author's guidelines thoroughly. Authors who submit manuscripts to the editors of Balance: Jurnal Ekonomi must comply with author guidelines. If the submitted manuscript does not comply with the guidelines or uses a different format, the manuscript will be rejected by the editorial team prior to review. The Editorial Team will only accept manuscripts that meet the specified format requirements.
Balance: Jurnal Ekonomi has been Nationally Accredited by the Ministry of Research, Technology, and Higher Education, Republic of Indonesia, Number: 36/E/KPT/2019 (Grade 4), valid until 2022.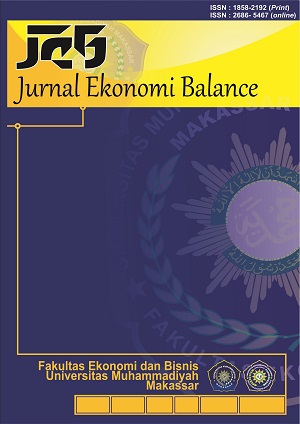 Announcements
No announcements have been published.
Vol 19, No 1 (2023): Juni 2023
Table of Contents
Articles
| | | |
| --- | --- | --- |
| | Eventinus Darman Tangkur, Didik Subiyanto, Kusuma Chandra kirana | 1-5 |
| | | |
| --- | --- | --- |
| | Dhitya Anggara, Yuni Prihadi Utomo | 6-13 |
| | | |
| --- | --- | --- |
| | Nataza Intan Pramesti, Julianto Agung Saputro, Manggar Wulan Kusuma | 14-23 |
| | | |
| --- | --- | --- |
| | Alveda Elian Giovanni, Sitti Retno Faridatussalam | 24-29 |
| | | |
| --- | --- | --- |
| | Kurniarga Bagaskara, Cahyo Indraswono | 30-38 |
| | | |
| --- | --- | --- |
| | Moch. Wahyu Yaqzah, Hadi Sumarsono | 39-46 |
| | | |
| --- | --- | --- |
| | Asdar Asdar, Akhmad Akhmad, Andi Jam'an, Nur Annisa Mustari | 47-61 |
| | | |
| --- | --- | --- |
| | Mailan Bangun Kristopo, Didit Purnomo | 62-68 |
| | | |
| --- | --- | --- |
| | Muhammad Alamsyah Ramli, Suriyanti Mangkona | 69-74 |
| | | |
| --- | --- | --- |
| | Nanda Bagus Ariyanto, Eni Setyowati | 75-81 |
| | | |
| --- | --- | --- |
| | Revo Yustitia Aji, Ugy Soebiantoro | 82-86 |
| | | |
| --- | --- | --- |
| | Septia Vindy Eka Putri, Joko Widodo, Mukhamad Zulianto | 87-95 |
| | | |
| --- | --- | --- |
| | Rizka Binti Khuzaimah, Sugeng Hadi Utomo | 99-107 |
| | | |
| --- | --- | --- |
| | Hervina Hervina, Agusdiwana Suarni, Khadija Darwin | 108-123 |