Invoice: Journal of Accounting Science has p-ISSN 2714-6359 and e-ISSN 2714-6340 published by the Accounting Study Program, Faculty of Economics and Business, University of Muhammadiyah Makassar, this journal publishes research articles in the field of Accounting Science. This journal publishes research studies using various qualitative and/or quantitative methods and approaches in the field of Accounting. This journal aims to develop concepts, theories, perspectives, paradigms, and methodologies within the scope of accounting which is published twice a year, in March and September.
of the Invoice journal includes Financial Accounting (Financial Accounting), Audit Accounting (Auditing), Islamic Financial Accounting, Cost Accounting (Cost Accounting), Management Accounting (Management Accounting), Tax Accounting (Tax Accounting), International Accounting (International Accounting) , Accounting for Non-Profit Institutions (Non-Profit Accounting), Budget Accounting (Budgeting Accounting), Government Accounting / Public Sector (Goverment Accounting), Accounting System (Accounting System)
Invoice: Journal of Accounting Science have been singgle reviewed by peer reviewers. The decision to accept or not accept scientific articles in this journal is the right of the Editorial Board based on recommendations from peer reviewers.
Please read and understand the author's guidelines thoroughly. Authors who submit manuscripts to the editor of Invoices: Journal of Accounting Science must comply with the author's guidelines. If the submitted manuscript does not comply with the guidelines or uses a different format, the manuscript will be rejected by the editorial team prior to review. The Editorial Team will only accept manuscripts that meet the specified format requirements format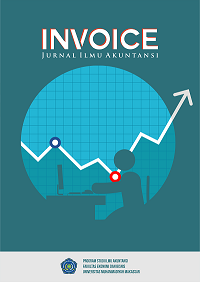 Announcements
No announcements have been published.
Vol 5, No 2 (2023): September 2023
Table of Contents
Articles
| | | |
| --- | --- | --- |
| | Fauzul Hakim Hasibuan, Dilla Amanda, Munawar Khalil Nasution, Putri Zahratul Jannah | 165-173 |
| | | |
| --- | --- | --- |
| | Cindy Cindy, Helen Salwa, Selina Selina, Warna Gamelia, Warni Gamelia | 174-178 |
| | | |
| --- | --- | --- |
| | Iwan Christian, Glenn Andrenossa, Theresia Octaviani | 179-190 |
| | | |
| --- | --- | --- |
| | Ana Mardiana, Anthony Holly | 191-201 |
| | | |
| --- | --- | --- |
| | Ainaya Tazriah, Aliah Pratiwi | 202-213 |
| | | |
| --- | --- | --- |
| | Asri Jaya, Abdul Wahab, Nurlina Nurlina | 214-219 |
| | | |
| --- | --- | --- |
| | Ahmad Fauzul Hakim Hasibuan, Cheren Putri Aditya Pratama, Mustika Shahana, Khaira Khirinika | 220-227 |
| | | |
| --- | --- | --- |
| | Abriyanni Abriyanni, Nurul Huda | 228-239 |
| | | |
| --- | --- | --- |
| | Robert Jao, Marselinus Asri, Anthony Holly, Jessica Juang | 240-256 |
| | | |
| --- | --- | --- |
| | Fauzul Hakim Hasibuan, Listia Kumalasari, Rini Rosita Br Ritonga, Asrul Fauzan | 257-262 |
| | | |
| --- | --- | --- |
| | Nilam Sari, M Rimawan | 263-273 |
| | | |
| --- | --- | --- |
| | Masrullah Masrullah, Faidul Adziem, Muhammad Nasrun, Reski Yanti | 274-283 |
| | | |
| --- | --- | --- |
| | Devina Wistiasari, Teo Laiy Soon Irpan Ardiansyah, Helen Salwa, Eriva Riesquita, Esther Agustina | 284-288 |
| | | |
| --- | --- | --- |
| | Jamaluddin Majid, Ambo Asse, Syaripuddin Rasyid, Safril Haliding, Bustan Ramli | 289-298 |
| | | |
| --- | --- | --- |
| | Indriana Indriana, Mira Mira, Miftahul Jannah | 299-306 |