Salam dan sukses serta semangat senantiasa hadir dalam suasana aktivitas pekerjaan yang diamanatkan.
Aktivitas Jurnal Eleketronik (e-journal) Perguruan Tinggi di Universitas Muhammadiyah Makassar berawal sejak April Tahun 2015. Keberadaannya dinaungi oleh Lembaga Penelitian, Pengembangan dan Pengabdian Masyarakat (LP3M) Unismuh Makassar pada unit kerja Divisi; Electronic Journal. Program aplikasi Open Journal System (OJS) dialamatkan pada:
host: http://unismuh.ac.id
web: http://journal.unismuh.ac.id

Portal: Publikasi Jurnal Ilmiah Akademik Universitas Muhammadiyah Makassar (PUJIA|UNISMUH)
===> SARAN Bagi Author. Silahkan Kunjungi Situs Pengajuan Jurnal INTERNASIONAL BEREPUTASI di:
http://e-journal.p-adri.or.id/
A B C D E F G H I J K L M N O P Q R S T U V W X Y Z All
KOLABORASI : JURNAL ADMINISTRASI PUBLIK
Kolaborasi "Jurnal Administrasi Publik" (Public Administration Journal) is a peer-reviewed open access, with ISSN 2442-949X (Print) published by Public Administration Study Program in Political and Social Faculty from Muhammadiyah University of Makassar.
Public Administration Journal "Kolaborasi" is an-Opened Access journal and published three times a year every April, August and December. Public Administration Journal with registered number ISSN 2442-949X (Print) received articles from research findings and new scientific review articles. The aims of this journal is to publish research article in the field of the bureaucracy, the public service management, the public policy, the regional autonomy, the management public, the human resource management in public sector, and its related issues.
Kolaborasi Journal has template of the articles and we will accept the articles from author if their articles have suitability with our template.
View Journal | Current Issue | Register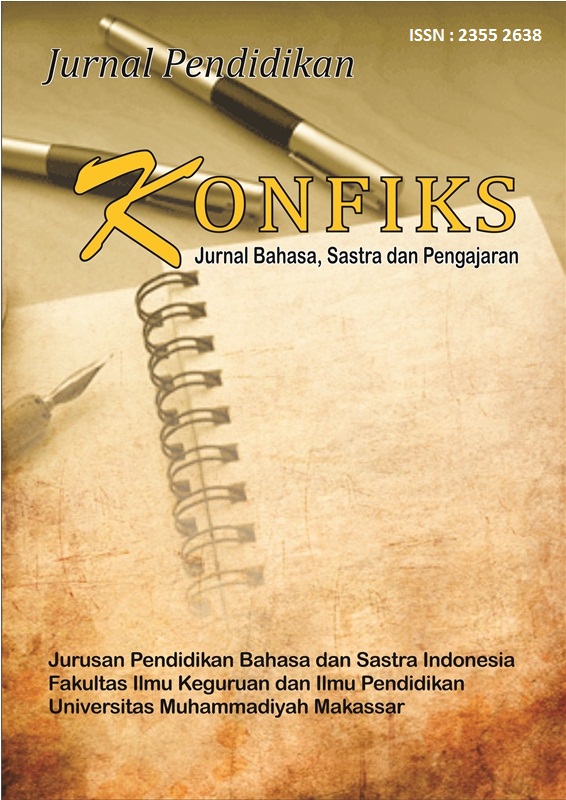 KONFIKS : JURNAL BAHASA DAN SASTRA INDONESIA
Jurnal Pendidikan KOFIKS adalah jurnal yang memuat hasil penelitian, review buku, dan hasil pemikiran tentantang pendidikan dan pengajaran bahasa dan sastra Indonesi. Jurnal Konfik terbit dua kali dalam dalam setahun yaitu pada bulan Juni dan bulan Desember setiap tahunnya. Jurnal ini mulai diterbitkan pada tahun 2014

Jurnal Pendidikan KONFIKS dibawah lisensi Jurusan Pendidikan Bahasa dan Sastra Indonesia, FKIP Universitas Muhammadiyah Makassar
View Journal | Current Issue | Register
1 - 2 of 2 Items